Homemade butter can be made a variety of different ways, but a mason jar makes a fun, and accessible activity for people of any age and skill level.
All you need is a jar, some heavy cream and a touch of salt.
I always do this when I have extra heavy cream around the house.
Its an extra bonus of making cupcake frosting or homemade caramel rolls.
Leftover cream means fresh butter!
With just a little elbow grease you can shake up the freshest butter in minutes using just two ingredients and a plain mason jar!
The Courageous Chicken may earn a commission for purchases made after clicking links on this page. Learn More.
Just follow these simple steps and you will have your very own fresh homemade butter.
You will need: A mason jar, heavy cream, and salt
Pour heavy cream into the mason jar, filling it half-way full. Screw the lid on.
*Quick tip- Sometimes it is hard to find mason jars for a reasonable price. At least my local retailers have noticed the everything in a mason jar craze and they have skyrocketed the prices for canning jar. This is where I order mine. Great price and they are delivered right to my door. Double awesome!
Shake the mason jar for approximately 5-7 minutes. After the first 2 minutes, you'll have whipped cream.
Keep shaking until you hear that a lump has formed inside.
Almost there, keep those biceps shaking just 30-60 seconds more and you are done!
Remove the solids from the jar. The remaining liquid is buttermilk. You can save that for other recipes, or discard it.
Place the solids in a small bowl. Pour cold water over the butter and use your hands to squish it into a ball. Discard water and repeat rinsing 2 times more.
At this point you have butter!
You can add in things like salt, honey, and herbs to create flavored butter, or serve in its pure form as is.
I always wrap mine in parchment paper and place it in the fridge to harden.
The butter will stay good for 3-5 days at room temperature, and about 7-10 days refrigerated.
The liquid leftover after the butter forms is buttermilk! You can also store this in the fridge for about a week for later use.
Take your homemade butter up a notch with these amazing compound butter recipes.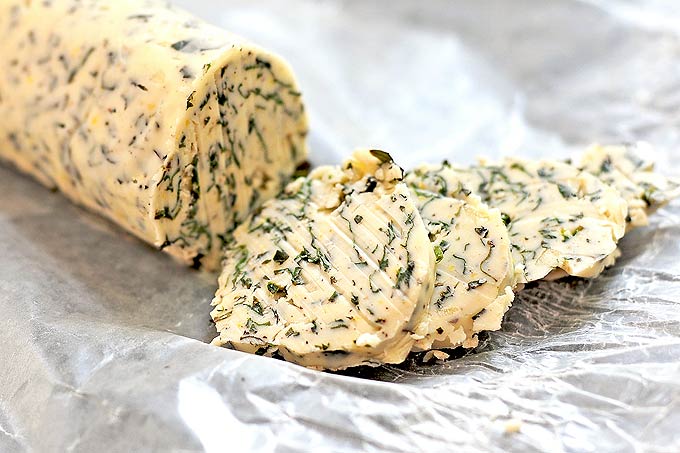 Amy over at She Wears Many Hats has an amazing recipe for Lemon Basil Garlic compound butter! This butter is a flavorful combination that is a great addition to chicken, fish, steak, hamburgers, pasta, and bread.
Elise at SimplyRecipes came up with this southwest inspired compound butter that combines cilantro and lime! Great with corn-on-the-cob, veggies, shrimp or steak!
Alton Brown developed this avocado compound butter that is something out of heaven. He subs out some of the butter base for avocado, so you could even call this healthy! It's a compound butter that makes a fabulous finish for grilled meats, fish and especially corn on the cob.
Ang at Juggling Act Mama developed this drool worthy cowboy butter. A compound butter worthy of grilling season takes just minutes! This homemade Cowboy Butter is so delicious on grilled chicken and steak.
Louisville chef Ed Lee, who shared his recipe for a compound butter that has all the flavors of classic Korean barbecue. A soy sauce-and-sugar reduction is streamed into soft butter laced with Korean chile flakes, garlic and scallions for a sweet, salty and fragrant condiment.
I hope that you can find a few minutes to try this quick homesteading project, the taste of fresh homemade butter is amazing!
Got any compound butter ideas? Let me know below!
Thanks and see you next time!